September 15, 2014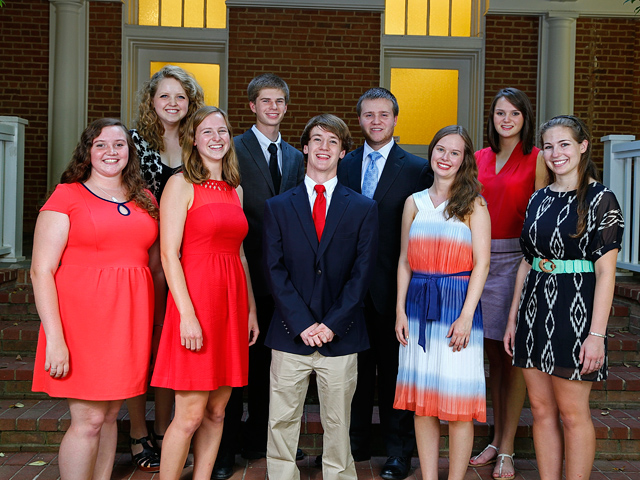 U.M. News Story about 2014-2015 Croft Scholars
The University of Mississippi news service recently wrote a story about the 2014-2015 Croft Scholars, Matthew Forgette, Natalie Gagliano, Alexandra Gersdorf, Kate Hill, Sarah Meeks, and Matthew McInnis, and the two winners of the Rose Bui Academic Excellence Scholarship, James DeMarshall and Hadley Peterson.
September 15, 2014
Croft Senate: Freshmen Senators and Officers
The Croft Senate has announced the results of its freshmen elections and its officers for the 2014-2014 academic year. The three freshmen senators are Karlie England, Kate Hill, and Matt Stanford. They join seniors Mazie Merriman, Holly Smith, and Tyler Smith; juniors Garrett Hersh, Lizzy Leary, and Lizzy Wicks; and sophomores Kalee Jones, James DeMarshall, and William Mahoney.
June 13, 2014
Two Croft Freshmen Recognized by National Leadership Honors Society
Two Croft students were recently named Outstanding Freshmen by the National Leadership Honors Society of Omnicron Delta Kappa. Madeline Achgill, an international studies major studying Spanish and Chinese, and Joe Bell, who is focusing on international governance and politics and studying Spanish, were two of six Ole Miss freshmen selected for this honor. Ryan Upshaw, Assistant Dean for Student Services at the School of Engineering and campus advisor for ODK, wrote that "these students have contributed to our campus in a myriad of ways very early on in their undergraduate experience: performing arts, community service, sustainability and campus government, to name a few. I look forward to seeing their continued leadership on our campus."