March 16, 2015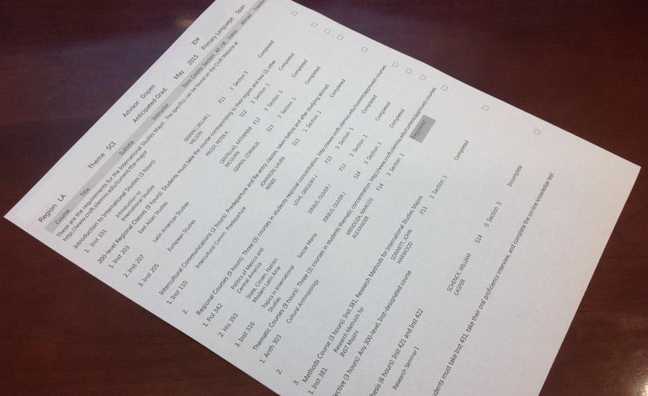 Croft Advising to Begin After Spring Break

The Croft Institute will begin formal advising on Monday, March 16, and will continue until Monday, April 6. Later this week, Dr. Schenck will send out an e-mail to all current students explaining the advising procedure and reminding them who their advisor is this year. Visit the Croft website for more details about the advising procedure, and, while you're there, look over the page outlining the major year-by-year. Students will be able to see which courses will count for the international major by using the course selection tool.
January 21, 2015
Spring 2015 Language Tables at the Residential College
Once again, the Department of Modern Languages is offering Language Tables at the South Residential College. These give students a chance to practice their languages in an informal, no-pressure situation. See the full schedule to find out when your language meets.
January 21, 2015
Carnegie Council for Ethics in International Affairs Trans-Pacific Student Contest
The Carnegie Council for Ethics in International Affairs is looking for essays and videos on the future of U.S.-Asia relations for its third Trans-Pacific Student Contest, part of Ethics for a Connected World, a three-year global education project to mark the Council's centennial, which was celebrated in 2014. Winners will receive a trip to New York City. Each submission must be a collaboration between a U.S. citizen and a citizen of one of the following Asian countries: Brunei, Cambodia, China (including Hong Kong and Macau), East Timor, Indonesia, Japan, Laos, Malaysia, Mongolia, Myanmar, North Korea, Philippines, South Korea, Singapore, Taiwan, Thailand, or Vietnam. The essays or videos should be in English and written in op-ed (not academic) style. Essays should be 2000-3000 words in length, and videos should not exceed 10 minutes. Students looking for a partner can use the Trans-Pacific Contest Matchmaker page. The contest is only open to graduate and post-graduate students. For more information visit http://www.globalethicsnetwork.org/page/trans-pacific-2015.