October 29, 2018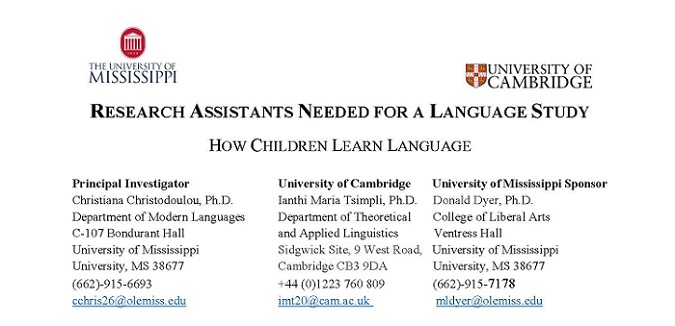 Research Assistants Needed for a Language Study
Qualifications Needed:
Be a graduate, 4th or 3rd year undergraduate student at the department of Modern Languages, Communication Sciences and Disorders, Psychology or Education.
Be responsible and dependable. Gender and age are not important.
Born in or moved to the State of Mississippi or adjacent Southern State at a young age.
Can invest at least 6 hours per week (weekday mornings).
*Research assistants will undergo extensive training on how to use specific software needed for the project.
Incentives:
Receive an hourly salary for their services.
Gain invaluable knowledge through research training.
Gain invaluable research experiences through data collection and data analysis.
Work with children (with both typical and atypical language development).
Work for a very prestigious European Grant and University of Cambridge, one of the best universities in the world.
Be part of a research team and research lab.
For more information, please contact Dr. Christinana Christodoulou at cchris26@olemiss.edu.